sicoma omg pan concrete mixers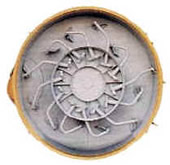 Our pan mixers, also known as turbine mixers, are ideal for both wet and dry cast concrete their design has been perfected over many years and now offer a fast and reliable mixing option.
The mixer contains a serious of individual mixing arms which are carefully positioned to both move the material from the hub of the mixer to the wall and back whilst also folding the material over itself during the process.
Each mixing arm is support by an elasticated joing arm allowing the mixer to skip over smaller obstruction with damage.
Why choose a Sicoma OMG pan mixer?
Thorough mixing of both full and partial batches
Deep mixing chamber can be filled to full capacity
Large reduction gearbox means mixer can start with a full load
Fast and complete cleanout
Give us a call to discuss what you need and how we can help.